CHIS Walks
We hope to start leading walks again, and are preparing walking guides.
Free Bristol Walking Guides
Now Available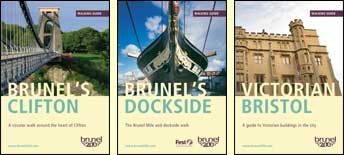 Free walking guides, printed as part of the Brunel 200 programme, are now available from Tourist Information Centres in Bristol. The fully-illustrated, pocket-size guides are on Brunel's Clifton, Brunel's Dockside and Victorian Bristol. They are linked to the free Bristol Legible City maps, which are widely available.

Word versions of the guides can be downloaded here:

Brunel's Clifton (Word document). Prepared by CHIS committee members Julia Killingback, Mike Pascoe and Richard Bland
Brunel's Dockside (Word document)
Victorian Bristol (Word document)

The following walks all relate to 2005, and indicate the type of walks that are available in Clifton.
when
organiser
title
time
description
Sat 19 Feb
Forest of Avon
Clifton Downs in Winter
1-3pm
A 2 hour tree gazing walk with Tony Titchen, to the Suspension Bridge and Christchurch Green.
Wheelchairs and pushchairs welcome.
Dogs on leads
Meet at Proctors Fountain, Clifton Downs (opp Lord Mayors Mansion
For details phone Tont Titchen: 01275 848629
Cost £3
Sat 27 Feb
Bristol Parks
Deer Feeding Walk
10:30am-11:30
Bring the children to meet the Deerkeeper at Ashton Court on an hour long walk to the fallow and red deer parks to see the deer being fed.
Booking essential 0117 9639174
Sun 20 Mar
National Trust
Easter Fun Trail
10am
Special children's trail round Leigh Woods to win an Easter treat. Family fun half-day event. Disabled access from Nature Reserve Office.
Park in North Road, Leigh Woods.
Contact 0117 973 1645 to book a place.
£2 per child.
Sun 3 Apr
National Trust
The Riddle of the Rocks
2-4pm
Discover more about the fascinating geology and landscape of the Avon Gorge and Leigh Woods on a 2 hour walk.
On good trails, no stiles, some steep slopes.
Booking essential.
Contact 0117 973 1645 to book a place.
Cost £2
Sun 17 Apr
Avon Gorge Wildlife Project
Early birds and bacon butties
6am-8:30am
Join us for a magic walk lead by local bird expert (and CHIS member) Richard Bland. After learning how to identify birds on the Downs, its back to the Zoo for breakfast.
For details phone Mandy Leivers, Zoo Gardens 0117 9030609
Cost £10 (includes bacon/veggie sausage bap plus tea or coffee)
Sun 24 Apr
Avon Gorge Wildlife Project
Early birds and bacon butties 2
6am-8:30am
Join us for a magic walk lead by local ornithologist Ed Drewitt. After learning how to identify birds on the Downs, its back to the Zoo for breakfast.
For details phone Mandy Leivers, Zoo Gardens 0117 9030609
Cost £10 (includes bacon/veggie sausage bap plus tea or coffee)
Sun 24 Apr
National Trust
Bird walk
9-11am
Local bird expert John Tully will lead this walk looking at birds found in Leigh Woods on a 2 hour walk. Learn how to identify different birds by their calls.
Please bring binoculars. Children should be accompanied by an adult.
Booking essential.
Contact 0117 973 1645 to book a place.
Cost £2
Tues 17 May
Avon Gorge Wildlife Project
Candles and Blossom
6:30pm-8:30pm
Join tree expert Tony Titchen for a pleasant evening stroll on the Downs. On this walk we will be looking at trees in flower including majestic horse chestnuts and historic hawthorns. Flat terrain with some slight inclines. No gates or stiles.
For details phone Mandy Leivers, Zoo Gardens 0117 9030609
Cost £3
Sat 9 July
Avon Gorge Wildlife Project
Moth Magic
9pm-11pm
Meet some of the Gorge and Downs nocturnal residents on this special 'National Moth Night'. Hopefully we will spot the nationally rare chalk carpet moth. Expert Ray Barnett and members of the Bristol & District Moth Group will give us information
For details phone Mandy Leivers, Zoo Gardens 0117 9030609
Cost £3
Useful websites:
---